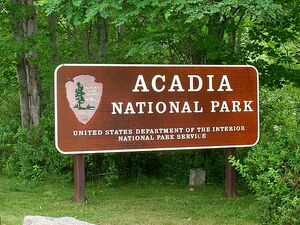 Acadia National Park is a federally-protected park on Mount Desert Island in Maine. In addition to Mount Desert Island, the park comprises much of the Isle au Haut, parts of Baker Island, and part of the Schoodic Peninsula.
Cadillac Mountain, originally called Green Mountain, is on the eastern side of the island. It is named after the French explorer Antoine Laumet de La Mothe, sieur de Cadillac.
In 1934, the park was featured on a postage stamp. It was depicted in 2001 on an airmail stamp. In 2016, yet another stamp commemorated the park's centennial.

In 1991, Antigua & Barbuda issued a set of stamps about Cog Railways of the World. One of these featured the defunct Green Mountain Cog Railway that ran up and down Cadillac Mountain, then called Green Mountain.