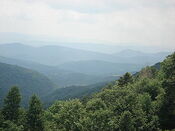 The Appalachian Mountains is a mountainous region on America, stretching from Georgia to Mount Katahdin in Maine.
Description
Edit
The beginning point is in the state of Georgia and the end point is Mount Katahdin.
The mountains defined in the 1700s and 1800s where America would end. But then Manifest Destiny occurred, and suddenly America made its borders stretch to the other side of the continent.
Ad blocker interference detected!
Wikia is a free-to-use site that makes money from advertising. We have a modified experience for viewers using ad blockers

Wikia is not accessible if you've made further modifications. Remove the custom ad blocker rule(s) and the page will load as expected.