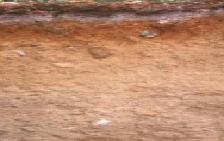 Chesuncook Soil is the state soil of Maine.
Description
Edit
Chesuncook soil is a soil type that was first identified in Maine. It is one of the most widely distributed soil types in the state. Chesuncook soils formed in dense glacial till derived mainly from slate and are made up of deep, well-drained soils from hills, mountains, and ridges.
The name is derived from the Native American word for converging bodies of water. The soil's scientific name is coarse-loamy, mixed, frigid Aquic Haplorthods.
State Symbol
Edit
Its status as the state soil was adopted by the Legislature of 1999.[1]
References
Edit