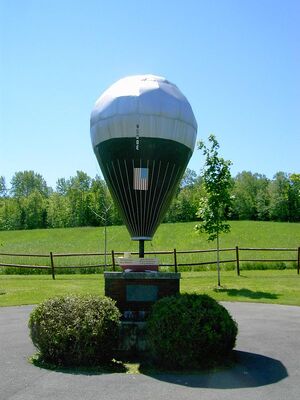 The Double Eagle II Balloon Site is a historical marker in Presque Isle, Maine, commemorating the first transatlantic balloon crossing.
The Double Eagle II, piloted by Ben Abruzzo, Maxie Anderson, and Larry Newman, launched from Presque Isle on 11 August 1978, and became the first balloon to cross the Atlantic Ocean when it landed 17 August 1978 in Miserey near Paris.
External Links
Edit
Ad blocker interference detected!
Wikia is a free-to-use site that makes money from advertising. We have a modified experience for viewers using ad blockers

Wikia is not accessible if you've made further modifications. Remove the custom ad blocker rule(s) and the page will load as expected.