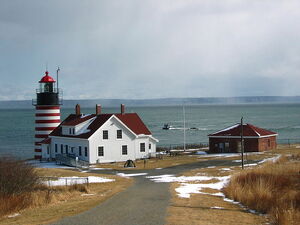 Quoddy Head State Park is a state park in Lubec, Maine. It is the home of the West Quoddy Head Light.
Description
Edit
It is in Washington County, in the city of Lubec. It is 39ft about sea level, with an area of 541 acres. It was established in 1962 as a state park by the Maine Department of Agriculture, Conservation and Forestry.
Ad blocker interference detected!
Wikia is a free-to-use site that makes money from advertising. We have a modified experience for viewers using ad blockers

Wikia is not accessible if you've made further modifications. Remove the custom ad blocker rule(s) and the page will load as expected.