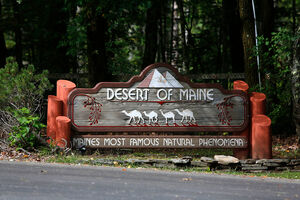 The Desert of Maine is a tourist attraction near Freeport, Maine.
It is an area of exposed glacial silt, which is similar to sand. Poor farming practices caused soil erosion, exposing the silt and making the land unfarmable. Henry Goldrup bought the land and turned it into a tourist attraction in 1925.
External Links
Edit
Ad blocker interference detected!
Wikia is a free-to-use site that makes money from advertising. We have a modified experience for viewers using ad blockers

Wikia is not accessible if you've made further modifications. Remove the custom ad blocker rule(s) and the page will load as expected.