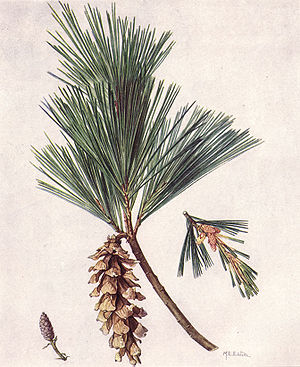 The White Pine Cone and Tassel is the state flower of Maine.
Description
Edit
The needles of the White Pine (Pinus strobus) are usually 2 1/2-5 in. long and usually shed near the end of the second growing season. The cones are usually 4-8 inches in length, usually slightly curved, with no spikes and thin scales.[1]
State Symbol
Edit
Its status as the state flower was adopted by the Legislature of 1945.[2] It appeared on a postage stamp as part of the state birds and flowers series of 1982.
References
Edit
Ad blocker interference detected!
Wikia is a free-to-use site that makes money from advertising. We have a modified experience for viewers using ad blockers

Wikia is not accessible if you've made further modifications. Remove the custom ad blocker rule(s) and the page will load as expected.